Hello Fellow Central School Thespian Parents
Posted Sep 11, 2008 | Category:
Halloween
This information was originally posted on September 11, 2008. Please note that the article refers to events from a previous school year.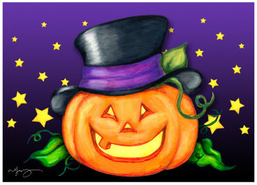 For centuries, Central School parents have given their "souls" so as to entertain the kiddies allowing the room parents ample time to create the Ultimate Halloween Extravaganzas available to human children on this planet for their classrooms parties.
Ok, to sum up, basically it is an AM commitment (9-11) for 2 weeks in October (called rehearsal.) You put on a show, (just once.)
Kids laugh (hopefully.) Then they leave. Parade. Party. Trick/Treat. Go to bed wound like a tight rope. (Much screaming if memory serves…)
Please contact Dawn Gmitro (halloween-dawn@centralptonews.org) or Kim Jacobs (halloween-kim@centralptonews.org) should you have any interest ASAP. We are currently casting for talkie parts as well as back stage. No commitment is too small, or too big, for that matter!