Hike and Bike Week News
Posted Sep 30, 2008 | Category:
Wellness
This information was originally posted on September 30, 2008. Please note that the article refers to events from a previous school year.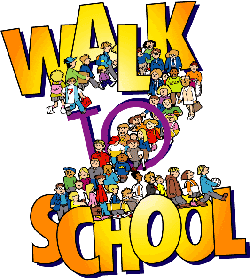 October is International Walk to School Month! Let's celebrate by walking or riding our bikes to school the week of October 6-10th.
Why "Walk or Ride" to School?
Promote physical activity and strong health
Protect the environment by reducing auto gas emissions
Promote biking and walking safety
The week-long celebration will include:
"Safety" Monday: Kick-off the week by wearing

yellow

or

orange

safety colors to school! Teachers and parents should review biking/walking safety tips with students.
"Earth Friendly" Tuesday: Wear

green

to school as a tribute to the environment.
"High Energy" Wednesday: Students are encouraged to bring a healthy snack/lunch to school and eat healthy foods throughout the day. Wear Central's school colors (

Red

/

White

) or Centralwear / Spiritwear — to show your "energy".
"Hats off to Exercise" Thursday: Students may wear a hat to school to celebrate the importance of exercise.
Early Release Day Friday: Join us in Lombard for a free roller skating party.