Roller Skating Party Friday October 10
Posted Sep 30, 2008 | Category:
Wellness
This information was originally posted on September 30, 2008. Please note that the article refers to events from a previous school year.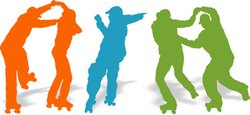 Join us for our annual Roller Skating Party at the Lombard Roller Rink, from 1:00 to 3:00 pm on Friday, October 10 (an early release day). The party is sponsored by Central PTO. Parents and siblings, as well as Central students, are welcome to skate FREE. Bring your own skates, or rent skates for $3 (or $5 for speed skates or inline skates). There is a snack bar at the rink. Roller skating is great exercise! Celebrate the end of Central's Hike & Bike to School Week by burning over 400 calories/hour. The original flyer is available here.
We are skating at a different rink than in previous years. A map to the rink is available here.