Volunteers Needed – Come Fly With Us!
Posted Oct 3, 2008 | Category:
Flying Carpet Club
This information was originally posted on October 3, 2008. Please note that the article refers to events from a previous school year.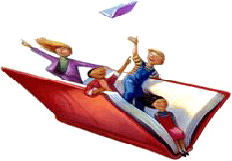 Toting carpets into Central School classrooms during the winter months, Flying Carpet Club volunteers take small groups of children in grades 1-5 on literary adventures around the globe. We aim to inspire young club members to thoughtfully discuss world-class, grade-level appropriate, literature collected in the Junior Great Books™ anthologies… and to make it fun!
In its debut last year, the Flying Carpet Club attracted 105 student members. Our reputation among the children for intrigue and excitement leads us to anticipate even more applications this year. As each Flying Carpet Club is limited in size to 5—8 children, however, our ability to offer this unique program is directly proportional to the number of volunteers willing to come aboard and facilitate individual clubs.
Please consider becoming a Flying Carpet Club leader (10 sessions) or co-leader (5 sessions) with another volunteer. Flying Carpet Clubs meet once per week on a Tuesday, Wednesday or Thursday (your choice) during the lunch/recess period from the week of January 12 through and including the week of March 16, 2009.
We invite prospective leaders and co-leaders to come aboard now, as both student enrollment and volunteer leadership training begin in November.
For more information, please contact Aberdeen Ozga via email at flyingcarpet@centralptonews.org or see student directory for phone number.