Halloween Window Painting Starts Thursday
Posted Oct 15, 2008 | Category:
Halloween
This information was originally posted on October 15, 2008. Please note that the article refers to events from a previous school year.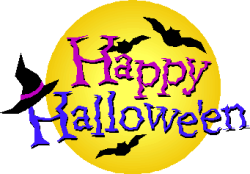 It's time to paint the town. Window painting assignments will be available at St. Mary's (South doors by the back parking lot) on Thursday (10/16) and Friday (10/17) from 3:15pm – 4:15pm.


Here are the details for Boo Windows
Who: Ghouls in grades 1 — 5
Window assignments: pick up from St. Mary's from 3:15pm — 4:15pm on Thursday (10/16) and Friday (10/17). Once you have your assignment, you may begin painting.
Painting Dates: 10/16 (3:15 — 5:30pm), 10/17 (3:15 — 5:30pm), and 10/18 (9:00 — 12:00pm)
Ghoulish painters will need to provide their own supplies:
Washable paint only please! School-use tempera (no acrylic/craft paint)
Paint brushes, sponges
Newspaper (to keep the sidewalk clean), water, paper towel
Please contact Nancy Hutchings (phone number in the student directory) with any questions.