Help Support our KidsCare Project
Posted Nov 29, 2008 | Category:
Community
,
Volunteering
This information was originally posted on November 29, 2008. Please note that the article refers to events from a previous school year.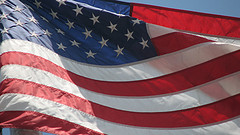 Please support our KidsCare Project, "Operation Stars and Stripes", by supporting our troops this holiday season! Any donations are appreciated and collection boxes are located right outside the school office until Tuesday, December 2nd.
Items needed are: Halloween candy, toothbrushes, batteries, Chapstick, Shower Shoes, Instant hot chocolate, travel games or cards, paper and pens, gum, Ziploc bags, Pepto tablets, powdered creamer, disposable razors, fruit snacks, cereal bars, trail mix, nuts, crossword puzzles, Mr. Coffee filters, travel scope, cough drops, foot powder, sugar substitute and twin blankets for the hospital.
If you have any questions, please contact our KidsCare Chair, Cheryl Dowling (phone number in the student directory.)
Don't have any items to donate? Just make a homemade Christmas card, a great opportunity to use your C.A.K.E. skills, and put it in the box.
Thank you for your generosity!