Flying Carpet Club Official Registration Begins Now
Posted Dec 5, 2008 | Category:
Flying Carpet Club
This information was originally posted on December 5, 2008. Please note that the article refers to events from a previous school year.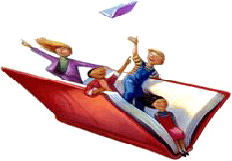 In case you missed it in your child's folder, a copy of the Official Registration Form for the Flying Carpet Club (Central School PTO's Junior Great Books program) is available here.
Please read both pages of the Form, as it indicates which students reserved slots in response to last month's survey and the number of remaining available slots by grade. For those with reserved slots, completed Registration Forms and payment where applicable (see Form) are due back to the PTO mailbox by Monday, December 8. Open registrations are accepted on an ongoing basis thereafter until all slots are filled or Friday, December 12 at the latest.
Please contact Aberdeen Ozga at flyingcarpet@centralptonews.org (or see student directory for phone number) with any questions.