Read to Succeed Program Deadline February 20th
Posted Jan 12, 2009 | Category:
Everything Else
This information was originally posted on January 12, 2009. Please note that the article refers to events from a previous school year.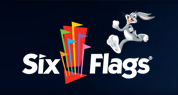 Read for 360 minutes and receive a FREE ticket to Great America and enjoy some summer fun !
Your child can use this form to keep track of what they read. Completed forms need to be turned in to your child's teacher by Feb 20, 2009. If you have questions about the program, please contact Maureen Zalewski (information in the student directory.)