Donations Needed for Hauser PRIDE Garage Sale
Posted Feb 20, 2009 | Category:
Community
,
District 96
,
Fundraising
This information was originally posted on February 20, 2009. Please note that the article refers to events from a previous school year.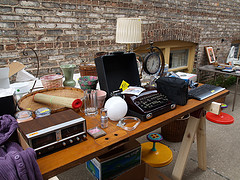 The annual Hauser PRIDE garage sale will be held on Saturday, February 28, from 9:00 a.m. to 1:00 p.m. Proceeds from the sale go toward the cost of the 8th grade PRIDE trip to Louisville, Kentucky. This year, ninety-six of Hauser's 8th graders will be attending the conference from April 8 to April 11. We are looking for donations for items to be sold at the garage sale. Donations may be dropped off on Saturday, February 21, from noon until 3:30 p.m.; Sunday, February 22, from 2:00 to 4:00 p.m., and Friday, February 27, from 3:30 to 8:00 p.m. Please bring your donations to the Band Room door off the parking lot behind Hauser.