09/10 School Supply Ordering Information
Posted Mar 17, 2009 | Category:
Everything Else
This information was originally posted on March 17, 2009. Please note that the article refers to events from a previous school year.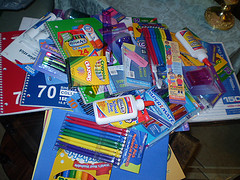 Online school supply ordering for the 2009/2010 school year for Kindergarten through 5th grade begins March 30th and runs through April 10, 2009. The website to order your supplies is www.epipacks.com, and our school id is CEN185 (enter it on the bottom of the page). This is an easy way to ensure that your child receives all of the right supplies for next year. When ordering, please note that 1st, 2nd and 5th grades have different packets for boys versus girls. Packets will be available for pick-up before the end of the school year. If you have any questions or problems while ordering, please contact Melanie Strubbe (contact information is available in the student directory).