Attention 5th grade parents – order a t-shirt for yourself
Posted Mar 29, 2009 | Category:
District 96
This information was originally posted on March 29, 2009. Please note that the article refers to events from a previous school year.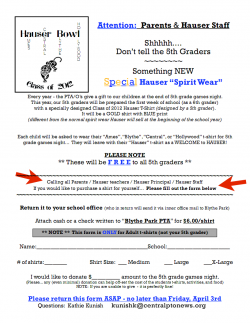 The 5th grade games night committee will surprise your 5th grader with a special Hauser t-shirt. If you would like one for yourself, please fill out the attached form and order one. Shhhhhh, it's a surprise!
Questions?
Contact Kathy Kunish kunishk@centralptonews.org.