Volunteers Needed for 2009/10
Posted May 30, 2009 | Category:
Book Fair
,
Cultural Arts
,
Fundraising
,
No Hassle Fund
,
Volunteering
This information was originally posted on May 30, 2009. Please note that the article refers to events from a previous school year.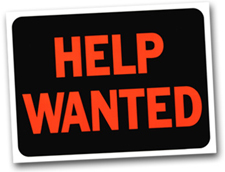 Help wanted for 2009/10, fabulous opportunity for motivated individuals, benefits will come in hugs from our children and your name in the infamous PTO calendar.
We are fast approaching the end of the school year and we still need your time and talent in a few areas next year! We have received lots of your committee and room parent forms (thank you, thank you), but several committees remain un-chaired (say it ain't so!). The PTO would greatly appreciate your taking the time to read through the following list and consider chairing/co-chairing one of the committees listed. Please send an email to Jennifer Sedivy at firstvp-jenn@centralptonews.org before school lets out, or you might find her knocking on your door, calling your home, disturbing the general peace of your summer months…no one wants that to happen! Thank you very much for your consideration.
Book Fair: Seeking a DYNAMIC TRIO. Urgent Need! Do you want to be loved and revered by teachers, students and parents alike? We need 3 co-chairs to take over this fantastic event loved by the whole Central School community. This is a wonderful opportunity to run a major event for the school and learn from the current chair, Beverly Aieta, who will run the fair for one more year to train the next co-chair "team" and pass on all of her wonderful knowledge in this area. (The book fair is scheduled for the week of April 5th, 2010, immediately following spring break).
Cultural Arts: The Cultural Arts Committee needs another co-chair for the classroom presentations. This is a position that is busy in September organizing the presenters for each grade level and classroom. The children love to have mom, dad, caregivers come into the classroom to discuss a work of art. Cultural Arts in the Classroom cannot happen without someone to help organize it. There is an immediate need to fill this position (1-2 people).
100% Fund: Promote our tax-deductible fundraiser (generally with flyers). Great for a working parent.
Birthday Boards: Needs one more co-chair to share the responsibility…can you take every other month and honor student and staff birthdays on the hallway bulletin board?
Pavers: Promote brick paver dedication program during fall and spring with flyers.
Roller Skating: Reserve the rink for Central's October skating event (usually an early-release day).
School Supplies: Coordinate the online ordering and distribution of pre-packaged school supplies. Many people love this convenient way to obtain school supplies, but we currently have no one to coordinate it.
Science in a Can (K, 2, 4th Grades): Organize and replenish cans once per week for 10-12 wks in winter (30-45 min.)
TV Turn-Off Week: Plan/execute this event where children choose to be active, rather than watching tv, playing video games, etc. Folder is available with all of the information from this year's successful first annual tv turn-off event.
Programs: Select and schedule 2-3 daytime all-school assemblies for the year.
Thanks for your honest consideration of your time and talents!
If one of these opportunities sound like a heck of a lot of fun, contact Jennifer Sedivy at firstvp-jenn@centralptonews.org and win her unending gratitude.