Cultural Arts Volunteer Procedures
Posted Sep 11, 2009 | Category:
Cultural Arts
This information was originally posted on September 11, 2009. Please note that the article refers to events from a previous school year.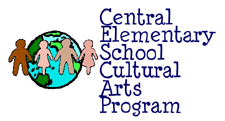 Welcome to Central School Cultural Arts Program.  Our program aims at stimulating the imagination of the students and broadening their ability to appreciate works of art.
We are excited to have you as a volunteer.  Enthusiasm is the only prerequisite to be successful in this program.  No art history or art appreciation experience is necessary.
As long as you bring your enthusiasm into the classroom, you will be rewarded by the student's insightful questions and comments and by the joy they show when creating their own work of art.
Here is the complete set of procedures for the Cultural Arts Volunteer program.