Family Fun Night tonight, September 25 5:30 – 7:30
Posted Sep 24, 2009 | Category:
Everything Else
This information was originally posted on September 24, 2009. Please note that the article refers to events from a previous school year.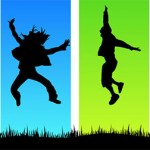 Central School Family Fun Night
Friday, September 25 from 5:30 – 7:30 PM
Come join us for a fabulous night of greeting old friends and making new ones! 
There will be music, games, jumpee and tons of pizza, ice cream and popcorn for sale.   If you forgot to pre-order pizza, we will be selling pizza by the slice while supplies last! 
Family Fun Night will take place in the parking lot behind Hauser/Central and in the event of rain, we will still be rockin in the Hauser gyms.
This event is sponsored by the PTO, and thus by you.  Hope to see you there.