Riverside Brookfield Mural Project – Request for used paint
Posted Oct 6, 2009 | Category:
Community
This information was originally posted on October 6, 2009. Please note that the article refers to events from a previous school year.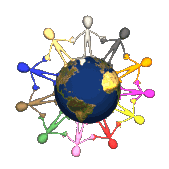 Riverside Brookfield Day of Service Project
MURAL PROJECT for the ARCADE BUILDING
CALL FOR PAINT
In an effort to help the RB art students complete their Arcade Building Mural we are asking anyone with left-over but usable COLOR paint (no whites or pastels needed as we have plenty!) Drop it off at the Riverside Arts Center during open hours until October 15th.
The students need: COLOR paint (LATEX or ACRYLIC) only: REDS, YELLOWS, BLUES, GREENS, ORANGE, PURPLE…..etc
And are also looking for:
'Bonding' Primer
Brushes
Rollers
Sawhorses
Drop cloths….
For an updated list of what is needed, visit: Riverside Brookfield's web site.
Help your community and clean out that garage . . . one more way to Use and Reuse!
The Riverside Arts Center is located at 32 East Quincy Road
Drop off during business hours before October 15th.
Hours:  Tuesday, Wednesday & Saturday 1pm – 5pm; Fridays 4pm to 8pm