Flying Carpet Club Registration
Posted Dec 13, 2009 | Category:
Flying Carpet Club
This information was originally posted on December 13, 2009. Please note that the article refers to events from a previous school year.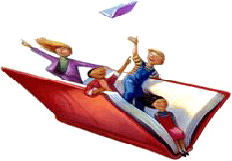 Flying Carpet Club
Junior Great Books
Official Registration Form
Flying Carpet Clubs are Central PTO's lunch/recess Junior Great Books discussion groups for children in grades 1-5.  Flying Carpet Clubs meet once a week, for 10 weeks, from the week of January 18 through the week of March 22.
Please discuss with your child(ren) whether they genuinely wish to participate before completing this registration.  Club Members must read the story of the week (or have it read to them) twice prior to their Flying Carpet Club meeting.  On meeting days, they must come prepared with their book, sack lunch and a drink.  Because meetings occur during the lunch/recess period, Club Members do not participate in recess on meeting days.  If you have any doubts about whether your child would enjoy this as an alternative to the regular lunch/recess program, please contact your child's teacher to discuss.
Our groups are small (8 children maximum) to promote shared inquiry and the quality exchange of ideas.  Accordingly, space is limited. (See reverse for number of slots available per grade)
As slots are allotted on a first come first served basis, please return completed registrations to the PTO Mailbox as soon as possible, but no later than FRIDAY, DECEMBER 18.
We will notify everyone by email as to our ability to accommodate desired registrations.
Please note that used anthologies may be borrowed at no cost. We have sufficient numbers this year that all participating children may borrow their books, if desired.
For those wishing to order new books, the cost for Grades 1 and 2 is $15.10 each and for Grades 3-5 is $18.30 each.   Please make checks payable to "Central School PTO" and return with the completed registation form.
Club Members will receive their grade level appropriate Junior Great Books Anthology in the first weeks back from winter break, together with a welcome letter and reading itinerary.
The registration form is here: Flying Carpet Club Registration