Memorial Day Flag Ceremony
Posted May 24, 2010 | Category:
Everything Else
This information was originally posted on May 24, 2010. Please note that the article refers to events from a previous school year.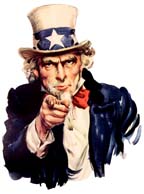 Central School Scouts: I Want YOU
Your help is needed for a flag ceremony to be held at Central School on Friday, May 28. We will be raising the flag and leading the Pledge of Allegiance outside on the Friday before Memorial Day.
All Central School scouts should wear your uniforms on May 28. The Scouts will stand in formation during the assembly. We hope you will all be able to participate. You must wear your uniform to stand with the scouts; if you forget, you will stand with your class. (Cub Scouts & Boy Scouts, don't forget your neckerchiefs! We want to present a uniform appearance, so for Cub Scouts no vests)
Please meet on the playground by 8:15. Go inside to drop off your backpacks first. Don't be late! There will be a leader or parent there to help you line up. Once you are in formation, please stand at "parade rest" (feet shoulder width apart and hands clasped behind your back, and NO talking). Once the assembly starts you will come to "attention" (feet together, hands at your sides, standing straight). Cub Scouts & Boy Scouts should salute, and Girl Scouts place their hands over their hearts when the flag is brought in, while it's being raised, and during the pledge. A leader will give you signals when to do this. When not saluting you will be "at attention."
There may be reporters from local newspapers there, and all eyes will be on you, so please be on your very best behavior and show everyone you are proud to be a Scout and proud to be an American!
If you have questions, please contact:
Girl Scouts – Cathy Louthen
Boy Scouts – Nancy Hopkins
Cub Scouts – Chris Hajer
NOTE TO PARENTS: The sidewalk in front of the school will need to be clear for the honor guard to bring in the flag. The best place to watch the ceremony would be the sidewalk between the school & the Episcopal Church / Building Blocks.