Stencil Painting Party Saturday the 18th at 9:00
Posted Sep 14, 2010 | Category:
Community
This information was originally posted on September 14, 2010. Please note that the article refers to events from a previous school year.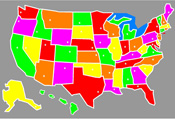 Ever wanted to paint the United States? Ever want to paint a tree? How about a rocket?? Now is your chance! The Central School PTO has purchased stencils (a rocket, a alphabet tree, a map of the US) for the playground area enjoyed by 1st and 2nd graders. We will be painting them this coming Saturday at 9am, weather permitting. Please RSVP by e-mailing nessingerg@centralptonews.org. We are looking for 10 to 12 people to assist for 2 hours.