OK..We are really going to stencil this time….
Posted Sep 28, 2010 | Category:
Everything Else
This information was originally posted on September 28, 2010. Please note that the article refers to events from a previous school year.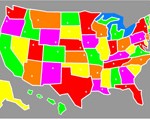 Please join us on Saturday October 2nd at Central for the much anticipated Stencil Party.  We will paint 5 stencils in assorted colors which will create a wonderful play area for the 1st & 2nd graders behind Central.  We hope to have 15 people over the course of the morning.  Please come during one of the following shifts:  9-11, 11-1, 12-2.  Come for 2 hours or 15 minutes-we need you!  Weather permitting, of course.  Please RSVP to Greg Nessinger.  See you there!