Stencil painting Saturday
Posted Oct 13, 2010 | Category:
Everything Else
This information was originally posted on October 13, 2010. Please note that the article refers to events from a previous school year.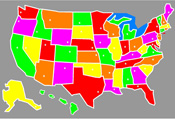 Please join us on this Saturday 10/16 at 9:00am to paint the stencils in the back play area at Central School.  This area is used by the 1st and 2nd grades as a recess space  and will be greatly enhanced by our 5 stencils!  Help us paint 2 hopscotch syencils, a map of the US, an alphabet tree and a 4 square area.  While this is a job for Adults, kids can come if supervised.  Ability to focus and paint within the lines a must!  Please RSVP to nessingerg@centralptonews.org.  See you there!