Stenciling almost done-one last push 11/6!
Posted Nov 3, 2010 | Category:
Everything Else
This information was originally posted on November 3, 2010. Please note that the article refers to events from a previous school year.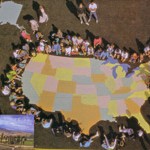 Almost done!  One last push to get the remaining 1/3 of the Stencils down and the kids will have an amazing and improved play area.  Please come this Saturday 11/6 between 9:00am and 2:00pm for a rousing good time coloring in the lines.  This is best done by Adults, but kids can always come too.  Please RSVP to Greg Nessinger.  Thanks and we are almost there!