Riverside Foods Gift Cards
Posted Nov 9, 2010 | Category:
Everything Else
This information was originally posted on November 9, 2010. Please note that the article refers to events from a previous school year.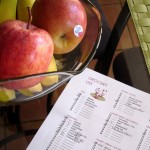 Time to start stocking up on Riverside Foods Gift Cards.  5% is generously donated to the PTO by Mike and Stephanie of Riverside Foods so make sure to give them a shout out of thanks when you shop.  Send you order form and check to the PTO box by Monday to receive the gift cards later in the week.  Thanks for all of your support.