Stencils look amazing!
Posted Nov 9, 2010 | Category:
Everything Else
This information was originally posted on November 9, 2010. Please note that the article refers to events from a previous school year.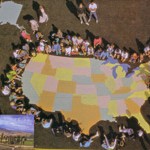 The stencils look amazing!  The best part is that lots of kids are playing in the area and are LOVING the new hopscotch, caterpillar and map that are bright, colorful and fun.  Stop by the black top area behind Central to take a look.  HUGE thanks to Greg Nessinger and team for a job well done.  Just a few finishing touches to go so stay tuned for one more work party.