Science Fair, November 9th, 6-8pm
Posted Nov 7, 2011 | Category:
Science Fair
This information was originally posted on November 7, 2011. Please note that the article refers to events from a previous school year.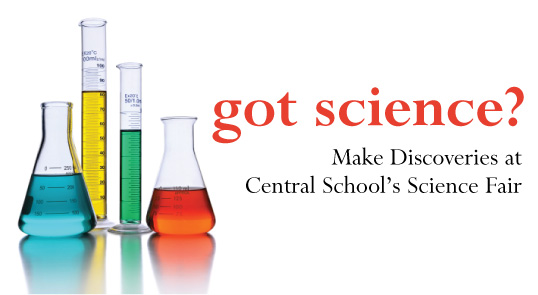 Got Science?  We do!  Over 140 students are participating in our Science Fair on November 9.  All Central students and parents are encouraged to attend and see all the "cool" experiments!
Just some reminders about the fair:
-Set up begins at 5pm after which you are welcome to go home and come back if you choose.  Set up will be as follows:
Central Library – Kindergarten and Mrs. Feldman's 1st Grade
Central Gym – Mrs. Scaggs' and Mrs. Murdock's 1st Grade, Entire 2nd Grade

Cafeteria – 3rd, 4th and 5th Grades.
-The fair runs from 6-8pm
-All children must be accompanied by an adult
-Please write your child's name and grade on the back of the display board
-All display boards must be taken home at the end of the fair
-Please do not leave the school until a Science Fair Committee member has reviewed your child's experiment which should ideally happen between 6-7pmand most importantly….
-Please explore each of the 3 fair locations within the school!  There is a lot to see! Have any questions?  Contact the committee at 
sciencefair@centralptonews.org
.