Changes to 3rd Grade Drop Off and Pick Up. Please Read!
Posted Jan 2, 2012 | Category:
Everything Else
,
Wellness
This information was originally posted on January 2, 2012. Please note that the article refers to events from a previous school year.
Traffic Safety around Central School is a top concern and requires ongoing evaluation.  Please note the following important change for drop off and pick up procedures for children in 3rd Grade:  To reduce congestion at 61-63 Woodside, 3rd graders will be picked up and dropped off in Zone C, in the back of Central School.  Third graders also will line up in the back of school.  This change becomes effective on Tuesday, January 3, 2012.
The pick up/drop off areas for all Students is as follows:
Zone A:  Kindergarten, front of school on Woodside, near Kindergarten doors, before stop sign
Zone B:  Grades 1-2, front of school, 61-63 Woodside
Zone C:  Graders 3-5, back of school
Zone D:  Hauser students
Please review the Traffic Safety Plan for complete information.
A few important reminders:
(1)  Arrive no earlier than 3:10 pm for pick up.  This allows your child to exit the school and be ready for pickup.  If you arrive earlier, you may be asked to circle the block while you wait for your child to exit the building.  If you would like to wait for your child on  the sidewalk or playground, please find a legal parking spot and feel free to do so.
(2) Display your "name placard" in your front window.   When there is inclement (raining hard, heavy snow, etc.) weather at pick up, it is especially important to arrive no earlier than 3:10 pm, with the placard clearly displayed in your car front window.  In this circumstance, once the parent or caregiver arrives at pick up, your child will be released.
(3) Please remind your child to cross the street only at crosswalks supervised by crossing guards to ensure his/her safety.
(4)  Please pass this info along to your caregiver and anyone else that may be picking up your child.  If you need a second placard for a caregiver please contact the office.
(5)  Remember, the key to the success of this plan is COMPLIANCE!  Thank you for your cooperation with these procedures.
Please remember when dropping off and picking up:
NO CELL PHONES
NO PARKING IN YELLOW MARKED CURBS
NO PARKING IN ZONES DURING DROP-OFF/PICK-UP TIMES
ZONE A – KINDERGARTEN (near playground)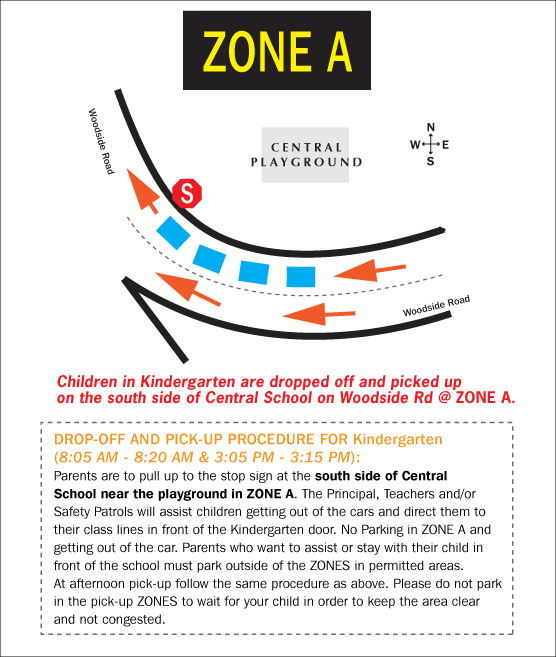 ZONE B - GRADES 1-2 (front of school)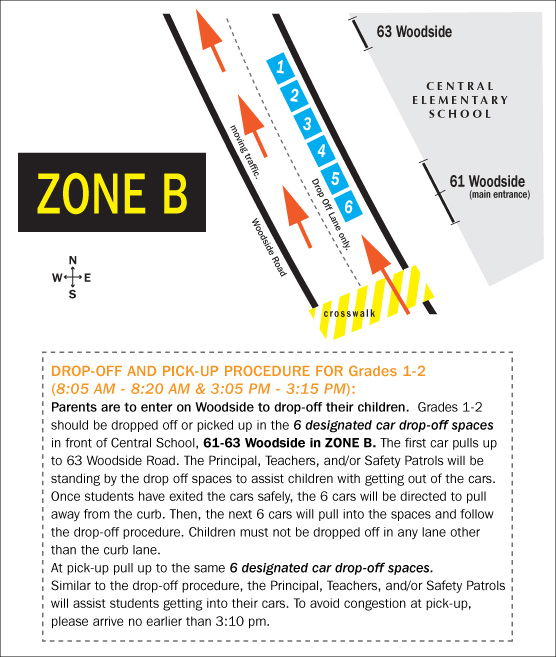 ZONE C – GRADES 3- 5 (back of school)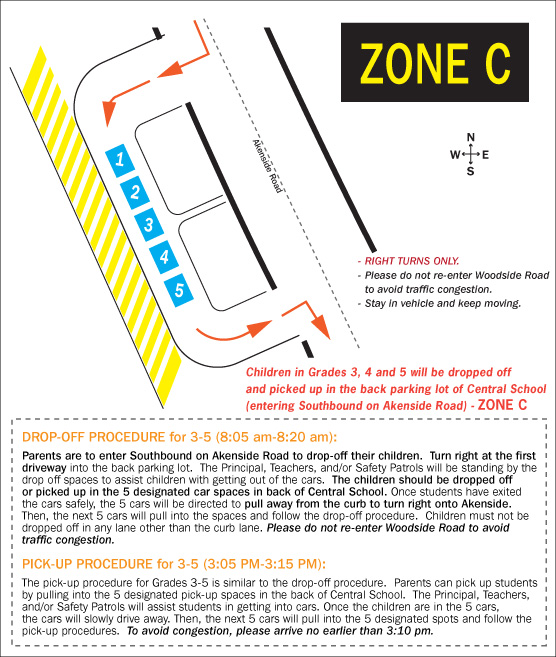 Thank you for your cooperation with these procedures.