School Supply Labels are In
Posted Jul 31, 2012 | Category:
Everything Else
This information was originally posted on July 31, 2012. Please note that the article refers to events from a previous school year.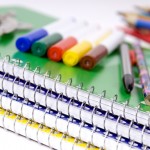 If you ordered school supplies, your labels containing your child's name have arrived.  These labels are used to label the school supplies that will be delivered to your home in August.
Stop by Jennifer Sedivy's home at 157 Gage Rd between now and Sunday, 8/5 to pick up your labels.  You will find them in a soft-sided cooler on her front porch.  If you are unable to pick up your labels and cannot have a friend do it for you, please contact Jennifer at jennsedivy@sbcglobal.net.