Central PTO Fundraising Opportunities in 2012-13
Posted Sep 4, 2012 | Category:
Fundraising
This information was originally posted on September 4, 2012. Please note that the article refers to events from a previous school year.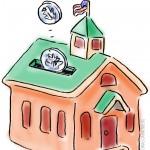 Throughout the school year, the PTO conducts several fundraisers to fund various programs at Central aimed at enhancing the excellent academic experience our children enjoy.  While participation is always optional, we do encourage you to get involved in these activities, as it is a wonderful way to get to know your community, play a part in its success and be part of your child's journey.   While at times we need to be more creative in generating the necessary funds to keep our PTO sponsored programs vibrant and stimulating, we have tried to keep our fundraisers to a minimum.  In keeping with this philosophy, we will run the following fundraisers during the 2012/2013 school year:
100% Fund  –A suggested one time donation of $100.00 is fully tax deductable and 100% goes towards the PTO.  This fundraiser will begin in September when our children return to school.
Begins Friday, September 7.
Innisbrook Gift Wrap and Gifts – Children sell premium gift wrap and gifts to family, friends and neighbors during September and October, all orders are delivered in time for the holidays!
Begins Friday, September 28.
Original Art Works – Children create beautiful one of a kind pieces of art which are made into a variety of items such as note cards and shopping bags, with pieces being delivered just in time to make perfect holiday presents!
Begins Wednesday, October 3.
Target – By simply registering your Target Card or Target Visa Card online designating Central as the beneficiary school, up to 1% of your purchases goes back to Central.  Through the "Target Take Charge of Education" program, Central, to date, has received over $10,000.00.
Ongoing.
Pavers – Be part of Central's history by purchasing a personalized brick that will become part of the permanent landscape in front of the school.  You can buy a brick paver at any time throughout the school year.  This is a great way to honor those you love.
Ongoing.
Book Fair – Foster your child's love of reading and earn books for Central School by shopping the book fair next year.
Begins Thursday, January 17, 2013.
Box Tops & Campbell's Soup Labels  – Keep saving those soup labels and box tops for education throughout the year, including the summer, as they all add up to valuable cash for our school.
Ongoing.
Through these fundraisers we are able to offer incredible programs such as:
Cultural Arts, Artist in Residence, Field Trips
Science in a Can, Halloween Play, Ecology Club
5th Grade Games and Picnic, Talent Show, Flying Carpet Club
Teacher Appreciation Week, Kindergarten Picnic, Science Fair
And many more!  Your generosity and volunteerism also helps the PTO supply philanthropy support and funds where it is most needed in our school.
We are looking forward to another amazing year and please know that none of this is possible without your help.
Jessica Niekrasz (secondvp-jessica@centralptonews.org)
2nd Vice President, Fundraising