Roadrunner Weekly, March 19-23, 2018
Posted Mar 18, 2018 | Category:
Everything Else
This information was originally posted on March 18, 2018. Please note that the article refers to events from a previous school year.
District Wide Pack the Piggies Event!
The students of Hauser Jr. High School and the Hauser PTO invite elementary and high school students to HELP HAUSER FIGHT HUNGER!  Hauser encourages elementary and high school students to participate in "Pack the Piggies" days at their schools the week of March 19-23. Bring in loose change to add to the school's "Piggy Bank." Each day you donate, you can "buy" yourself a Spirit Day! The money raised will be contributed to the Hauser Canned Food Drive.
Monday: Get the Piggie Party started!  Bring in your loose change and start the week on the right foot!
Tuesday: Donate change and you can have a CRAZY HAIR DAY!
Wednesday: Some pocket change earned you the chance to Dress Like a Teacher today!  Show us how YOU would dress to lead your class!
Thursday: Today's change earned you a MARCH MADNESS DAY! Who are you rooting for?  Not a college basketball fan? Wear your favorite team from any sport!
Friday: Last day to pack those piggies!  Bring in loose change and you've purchased a BACKWARDS DAY!  We think you look good no matter which way you wear your shirt!
These silly spirit days not your thing?  Come dressed in your Central Spirit Wear any day!
Stay tuned for information on Feed Our Community Day: April 14.  The community can come together to pack thousands of "Meals for Hope!"
________________________________________________________________________________________
We are looking for a parent/guardian of a 4th or 5th grade student to chair our Sock Hop!  The sock hop is a short, low-key event for 4th and 5th grade students to have fun dancing to their favorite songs and playing dance games. Only 4th and 5th graders are invited to attend.  School approved snacks and drinks will be provided.  The event date is TBD, but will be held in late April or early May.  Can you help keep this tradition continue by helping to organize this year?  If so, please contact Heather Manning at: HeatherManning79@gmail.com
________________________________________________________________________________________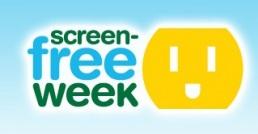 Screen-Free Week is Coming!
Screen Free Week is April 16-20!  Details on our events for the week are coming soon!