Posted Oct 15, 2017 | Category:
Community
,
Fundraising
This information was originally posted on October 15, 2017. Please note that the article refers to events from a previous school year.
Big news from Central!  Central School PTO is excited to announce that we've partnered with local restaurants to benefit the PTO! A portion of sales on a designated night will be donated back to the PTO. Our first "Dine Out" for Central Night is this Wednesday at Mollie's Public House in Riverside. Take a break from making dinner and doing dishes for a night, have fun seeing friends and family and help support Central School PTO programming!
Please invite all your friends and make sure to tell them to let Mollie's know you are there for Central School!
See you Wednesday!
---
Hurricane Relief Fundraiser
This week the Central School PTO is partnering with Central School to help raise funds for animals in the many disaster areas in the United States and Puerto Rico. The money raised will be donated to animal relief efforts in Puerto Rico, Florida, Texas and California from the devestating hurricanes and wildfires.
We are super excited! Mr. Gatz and one teacher will be duct taped to the wall during recess on Friday, October 20th.
We will have 5 jugs in the front hallway each morning this week. As students come to school, they can drop spare change into the jug representing the teacher they would most like to see duct taped to the wall! The teacher's jug with the most coins 
on Thursday 
will be the teacher who will get duct taped to the wall with Mr. Gatz! The teachers who will be participating are:
Mrs. Marotta (1st Grade)
Ms. Sherman (2nd Grade)
Ms. Pauga (4th Grade)
Ms. McMahon (5th Grade)
Mr. Howes (Music Teacher)
During recess 
on Friday
, the students will be able to purchase duct tape for $1 and duct tape our principal and teacher to the wall!  As a special treat, and for a good cause, Mr. Gatz has also volunteered to allow any student who donates $20 or more to purchase a plate of whipped cream and cover Mr. Gatz's face with it!  Wooohooo!
Let's see how much we can raise and help the animals!!! Thank you so much to Mr. Gatz, Mrs. Marotta, Ms. Sherman, Ms. Pauga, Ms. McMahon and Mr. Howes for helping out for such a great cause!
NOTE: Parents or Kindergarteners who would like to watch, are welcome to come to the playground at 
12:20pm
on Friday
 and watch the fun! Please do not come earlier, for safety reasons.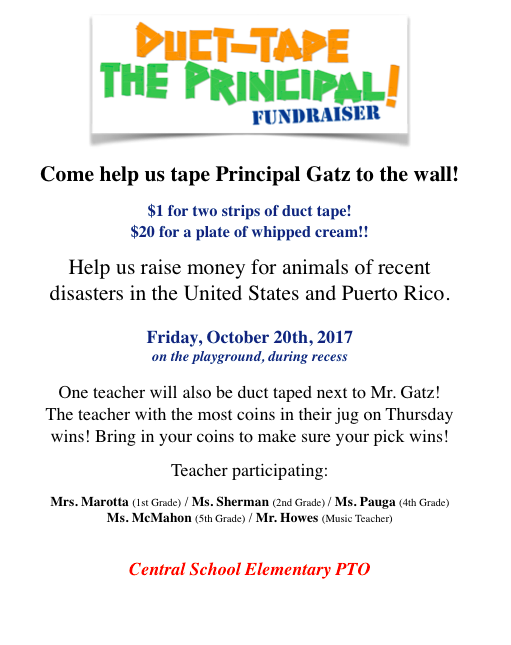 ---