Posted Oct 30, 2014 | Category:
Halloween
This information was originally posted on October 30, 2014. Please note that the article refers to events from a previous school year.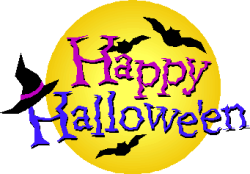 ARE YOU COMING TO SCHOOL TO VOLUNTEER FOR THE HALLOWEEN FESTIVITIES?
Make sure you have turned in a volunteer Information Form!  If you haven't, print this FORM and turn it into the School Office.  This is a NEW form that all volunteers (room parents, room helpers, any PTO committees) in our school must turn in!
GUIDELINES FOR A FANTASTIC HALLOWEEN CELEBRATION AT CENTRAL:
ALL KINDERGARTNERS AT CENTRAL WILL ATTEND KINDERGARTEN FOR THEIR NORMALLY SCHEDULED HOURS
EXTENDED LUNCH – 11:30-1:00
• All students in grades 1st-5th make every effort to go home for lunch from 11:30-1:00 in order to dress in their Halloween Costumes.
• If your child will be staying at school for lunch, please send a note or we will assume that he/she is supposed to be going home for lunch on Halloween.
1:00 Students return to school and report directly to their classrooms.
1:10-1:55 – Mad Scientist Assembly in the Hauser Auditorium
1:55-2:15 – Halloween Parade outside.
• Students will exit rear of Hauser and proceed behind Hauser and Central, travel on the walkway between Central and the Church towards the playground in front of Central School. The parade continues down Woodside and back into the building through the main doors at Central.
• If the weather does not cooperate, the parade will be across the stage and students will return to their classrooms.
End of Parade – 3:00 – Classroom parties
• Room parties will follow the guidelines provided to room parents, including any classroom specific allergy guidelines.
———————————————————————————————
*PLEASE DO NOT SENT ANY CANDY OR TREATS IN WITH YOUR CHILD
*HALLOWEEN COSTUMES NEED TO BE SAFE, COMFORTABLE, AND SCHOOL APPROPRIATE. NO WEAPONS OR BLOOD ARE ALLOWED.
---