Posted Aug 18, 2014 | Category:
Reminders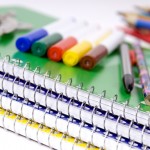 If you ordered school supplies for the 2014-15 school year, pickup will take place on Friday, August 22nd from 8:00 am to 10:00 am outside on the back pavement behind the multi-purpose room at school.
Come and check out the class lists and pick up your supplies! Class lists will also be posted at 8 am on Friday!
If you are unable to pick up your items on Friday or would like to help pass out , please contact Jennifer at jennsedivy@sbcglobal.net to make special arrangements.
---