Posted May 21, 2014 | Category:
Community
,
Reminders
This information was originally posted on May 21, 2014. Please note that the article refers to events from a previous school year.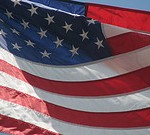 If your scout would like to participate in the annual Memorial Day Flag Ceremony on Friday, May 23rd, please have them wear their uniform to school. The ceremony will begin at 8:30 am.
All scouts should check in with their teachers as usual and they will then be sent outside before the 8:30 am start to get assembled by the playground.
Any fifth grade scouts that would like to be a part of the color guard must contact Chris at chris@pacourek.com.
Parents are welcome to attend the short outdoor ceremony.
---