Posted Apr 17, 2014 | Category:
Everything Else
,
Reminders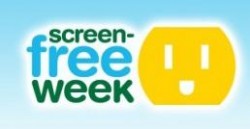 Screen Free Week 2014: April 21st – 26th
Central School PTO is sponsoring Screen Free Week 2014, the week of April 21st – 26th.  During Screen Free Week, children and adults are encouraged to spend an entire week "unplugged" by turning off their televisions, computers, video game players, iPods, iPads and other tablets and hand-held devices for all recreational use.
We ask the parents of Central School students participating in Screen Free Week to lead their families in this effort to reduce screen time.  In doing so, you are freeing up additional time to spend with your children in other fun and creative ways.
To offer alternative activities for your children, there are many fun programs and events to be held at Central School and in Riverside, throughout the week.  In additional to a number of after-school activities scheduled at Central School, there are also offerings off-site through the Frederick Law Olmsted Society, the Riverside Public Library, Riverside Parks & Rec and the Riverside Art Center.  All offerings are open to both boys and girls.
**Please note that most activities have limited space and will require registration – signup instructions are listed within the link to SignUpGenius, below.
Review the Activity Guide and sign up online!
SIGN UP HERE:  www.SignUpGenius.com/go/409054DA5AD28AA8-screen2
Also, please fill out a Raffle Ticket for each day that you are "screen-free!"  Raffle prizes include Central School Spirit Wear and Gift Certificates for tasty treats from some of your favorite local shops!
Questions?  Contact Ann Marie Dixon: amdixon08@gmail.com
---