Posted Apr 13, 2015 | Category:
Reminders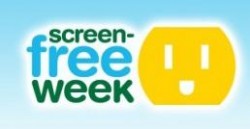 Screen Free/Earth Week 2015: April 2oth – 25th
Central School PTO is sponsoring Screen Free/Earth Week 2015, the week of April 20th – 25th.  During Screen Free Week, children and adults are encouraged to spend an entire week "unplugged" by turning off their televisions, computers, video game players, iPods, iPads and other tablets and hand-held devices for all recreational use.
We ask the parents of Central School students participating in Screen Free Week to lead their families in this effort to reduce screen time.  In doing so, you are freeing up additional time to spend with your children in other fun and creative ways.
To offer alternative activities for your children, there are many fun programs and events to be held at Central School and in Riverside, throughout the week.  In additional to a number of after-school activities scheduled at Central School, there are also offerings off-site through the Frederick Law Olmsted Society, the Riverside Public Library, Riverside Parks & Rec and the Riverside Art Center.  All offerings are open to both boys and girls.
**Please note that most activities have limited space and will require registration – signup instructions are listed within the link to SignUpGenius, below.
Review the Activity Guide and sign up online!
SIGN UP HERE: www.SignUpGenius.com/go/4090444A9AF2DA46-screen
Also, please fill out a Raffle Ticket for each day that you are "screen-free!"  Raffle prizes include Central School Spirit Wear and Gift Certificates for tasty treats from some of your favorite local shops!
PROGRAM HIGHLIGHTS:
Monday, April 20 @ 2:30: ProBike Show featuring Matt Wilhelm  at the Swim Club Parking Lot
We will be kicking off Screen Free Week with a exhibition by Matt Wilhelm, an award-winning BMX bike stunt performer, who will perform amazing stunts while speaking about bike safety, bullying, perseverance and character.  He has performed for Central students in the past and it was a big hit!  Please note that we will not provide chaperones to escort the children to and from the Swim Club and there will be no organized adult supervision provided.  Therefore, we encourage parents to bring their children for this awesome event!  Adults can use their own discretion with older students.
Wednesday, April 22 @ 3:30:  "Journey From The Heart"  at the Riverside Public Library
Come celebrate the true meaning of Earth Day: presenter Dennis Page will guide us in an exhibition about native North American cultures and traditions.  Participate in flute playing, circle dances, animal impressions, stories, songs, drumming and sharing of the Medicine bag and be into the humor and ancient wisdom of the First Nations.  Co-sponsored with the Riverside Library. This is appropriate for all ages and is great family activity.  No registration is necessary.  There will be no chaperones escorting children to the library for this presentation.
Questions?  Contact Dana Tomas at danactomas@hotmail.com              
---