Posted Sep 25, 2012 | Category:
Reminders
This information was originally posted on September 25, 2012. Please note that the article refers to events from a previous school year.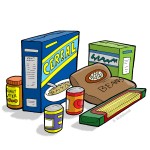 Don't forget about our first Family Fun Night food drive for the Riverside Township Food Pantry.  We are encouraging all families to bring at least one non-perishable food item (beans, peanut butter, pasta, canned fruit or vegetables etc) or paper products (paper towels/toilet paper) with you to Family Fun Night on Friday, 9/28.  The pantry is in need of donations and we want to fill their shelves.  There will be donation boxes near the ticket distribution table that evening.  Thanks to the 5th Grade Student Council for getting our kids excited about donating!
---