Posted Apr 29, 2013 | Category:
Reminders
This information was originally posted on April 29, 2013. Please note that the article refers to events from a previous school year.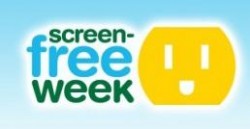 Please don't forget to talk to your child about unplugging this week.  For every day that they are screen free, be sure to have them turn in a raffle ticket to theirr teacher to be entered in a drawing for Spirit Wear and gift certificates to local places! 

Screen Free Raffle Tickets 2013
We still have openings in the following classes:
Zumbatonic! on Tuesday, April 30 from 3:30-4:15pm
It's time to get down to the most popular beats while learning some new moves.  Break a sweat with your friends while having fun.
  Day Camp Day on Wednesday, May 1 from 3:30-4:30pm
 Join the Riverside Parks & Rec Department as they show you what Day Camp is all about with wacky relays and creative challenges.  You'll be laughing so hard you won't care who wins!
 Art Classes on Saturday, May 4 from 11am-Noon
 Two fantastic classes at the Riverside Arts Center.  You don't pay a thing!
Review the Activity Guide below and sign up online for all of our great events:
Screen Free Week 2013 Activity Guide
Be sure to read your email confirmation from the Signup Genius instructing you where your child will go before their events. 
Questions?  Contact Ann Marie Dixon: amdixon08@gmail.com
---