Posted Nov 24, 2012 | Category:
Flying Carpet Club
,
Reminders
This information was originally posted on November 24, 2012. Please note that the article refers to events from a previous school year.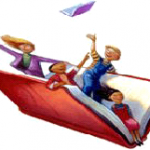 Flying Carpet Club
Junior Great Books
Volunteer Info Session!
Looking for ways to encourage a life-long love of reading with your kids?
The PTO's Flying Carpet Club program runs from January through mid-March. Volunteer Club Leaders are needed once a week or every other week during this period.
Toting carpets into Central School classrooms, Flying Carpet Club leaders take children in grades 1-5 on lunchtime literary adventures.  Music, food, movement and art activities help spark meaningful discussions about the world-class, grade-level appropriate literature collected in Junior Great Books™ anthologies. . . and build lasting memories!
As each Club is limited to 6-8 children, our ability to offer the program depends on parental willingness to lead, or co-lead, with another parent.
Please join us for one of the following info/training sessions:
Tuesday, November 27 at 12:00 p.m.
or
Friday, November 30 at 9:00 a.m.
R.S.V.P. to Aberdeen Ozga at aberdeen1@comcast.net or (312) 209-6220.
---